Spain's next PM seeks financial info before acting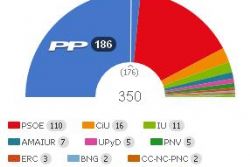 Spain's leader-in-waiting Mariano Rajoy will resist as long as he can international pressure to reveal detailed economic plans as he searches for financial skeletons in the closet and courts the opposition, party officials and analysts said on Wednesday.
Rajoy, known as a cautious public administrator, won Sunday's election by a landslide as voters threw out a seven-year-old Socialist government blamed for sky-high unemployment and economic malaise.
The Centre-right People's Party (PP) leader campaigned on promises to restore confidence on financial markets and he is expected to slash spending and bring in business-friendly economic reforms.
But analysts and officials from his party said he would not be rushed despite the intensity of the euro zone debt crisis that has forced three countries to take international bailouts.
"You can't put together a package of measures until you know exactly what kind of public spending effort you're confronting," Miguel Arias Canete, the PP campaign coordinator and tipped for foreign minister, said on Onda Cero radio on Wednesday morning.
Greece's debt crisis spilt into the open after George Papandreou won election in 2009 and found the budget deficit that year would be three times greater than the previous government's estimates. He failed to prevent the crisis escalating into a threat of Greek bankruptcy and had to step down earlier this month.
Over the past year as the PP has won elections in various regions of Spain it has complained that the Socialists left public accounts in bad shape, leaving off the books stacks of past-due bills to suppliers.
Everyone from Fitch debt rating agency to German Chancellor Angela Merkel has urged Rajoy to take rapid steps, but under Spanish law he will not formally take office until somewhere between December 16 and December 20.
ZAPATERO, RAJOY BOTH AT EU SUMMIT ?
Spanish news agency EFE reported that Rajoy would take details of his economic plan to a December 7-8 meeting of European People's Party leaders in Marseilles. A party spokeswoman said she could not confirm the report.
It remains unclear whether Rajoy will accompany outgoing Socialist Prime Minister Jose Luis Rodriguez Zapatero to a European Union summit on December 9.
The IMF unveiled on Tuesday beefed-up lending instruments that could help countries with solid policies that may be at risk from the euro zone debt crisis.
Spain was not named specifically, although the liquidity option was seen as being designed for its situation. But the news that precautionary credit could be available for Spain sends a dangerously mixed message.
"It's good news but a bad sign," said Santiago Sanchez, economics coordinator at the Flores de Lemus Institute at the Carlos III University in Madrid.
Alfredo Pastor, economics professor at IESE business school in Madrid, said Rajoy would be acting with his hands tied behind his back if he named ministers who will not be able to act for a few weeks.
The People's Party won an absolute majority in Spain's lower house, with 186 seats out of 350.
But as voters rejected the Socialists they also turned to many smaller parties that made important gains in parliament, including leftist and regionalist parties from Catalonia and the Basque country.
Analysts said that given that austerity measures would be painful and could set off demonstrations in the streets, it was important that Rajoy consult with opposition leaders to form as broad a consensus as possible.
"He has to reach agreement with the main parties, the opposition... This is what the country is asking for. Not a coalition government but agreement on two or three areas," Pastor said.
Despite spending cuts already implemented, Spain is expected to miss its deficit reduction target this year, which means even more severe belt tightening to reach the 2012 goal of a deficit equal to 4.4% of GDP.