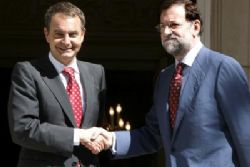 Spain´s outgoing and incoming Prime Ministers met yesterday evening to discuss the handover process between the two administrations.
José Luis Rodríguez Zapatero and Mariano Rajoy discussed the on-going financial crisis in the Eurozone and it´s effect on markets, aswell as the European Council meeting which will be held in Brussels on December 9, where Zapatero will attend as acting Prime Minister.
The PSOE Minister for Presidency, Ramón Jáuregui, and the PP Spokesperson in parliament, Soraya Sáenz de Santamaria are to be responsible for the coordination of the handover process of the coming weeks.
Parliamentary law dictates that the new administration can be constituted on December 13th, and be in office by the 20th or 21st of December allowing the new Government to be fully in place before Christmas.
Reports suggest that the meeting went well, with the two men arranging to meet again over the next few days to discuss the handover process and wider issues concerning the state of the economy in greater detail.