AENA introduce SDP at Barajas T4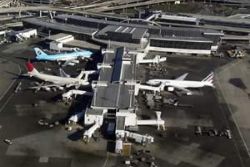 last evening Terminal 4 of Madrid-Barajas Airport introduced the new automated management service airport platform (SDP), which allows air traffic controllers as opposed to manual drivers to aid the maneuvering of aeroplanes around the airport. A spokesman for the airport confirmed that "the service is running normally." Plans are in place to introduce the system to Barcelona-El Prat airport in the near future.
Yesterday the Professional Association of Air Traffic Controllers (APROCTA) requested that AENA suspended the move, however the Spanish Airports Authority defended the service, stating how it would reduce delays and increase efficiency at the airport. The scheme implementation had already been delayed from being introduced on the 17th November.
APROCTA petitioned the Supreme Court to suspend the introduction of the system amid security concerns, but the system was eventually endorsed, according to the ruling last September 8th.
The Ministry of Public Works has ensured that the training offered to the new controllers of the SDP system is twice the minimum requirements established by Royal Decree. A similar system is already in place Atlanta airport in the USA, currently the busiest in the world, Chicago, iaswell as European airports such as Frankfurt, Hamburg and Munich.
Air traffic controller has also expressed their concerns that the new system could cause loss of 100 million euros to airlines at Barajas airport alone.
Last week, the President of AENA, Juan Ignacio Lema, spoke of his confidence that a change of government would not influence the implementation of the SDP system. Lema explained the operation of this new system is a technical decision and was not a decision that the Government should make. "It's an application of the opportunity provided by the law passed last year to improve the efficiency of the airport," he argued.
The President also commented how the system is approved by the International Civil Aviation Organization (ICAO) and is used in other major world airports. "And that properly applied, as we will do ourselves, keeps all security levels and increases efficiency because it greatly reduces the costs," said Lema.