Air Nostrum to move base of operations from Valencia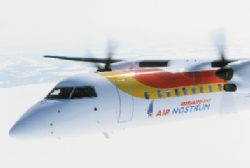 Air Nostrum, operating as a franchise partner of Iberia Regional, has commented that they are in negotiation with AENA with regards to the possible relocation of their base of operations from Valencia to Bilbao airport.
An unnamed AENA source has confirmed that the talks are at an early stage, and that as nothing is as yet decided, all outcomes are possible.
The possibility that Air Nostrum may leave Manises airport, where the the maintenance hangars for the entire fleet are located, was suggested earlier in the year following the changing of the business strategy of the company, which has decided to concentrate 66 % of flights towards Madrid-Barajas airport.
This strategy of basing operations at Valencia-Mansises airport is therefore inconvenient for the operational Air Nostrum, as it requires all aircraft to be brought to Valencia for maintenance and inspections, and by reducing routes to and from Valencia it makes it all the more inconvenient to arrange this.