Santander CEO gets pardon for 2009 conviction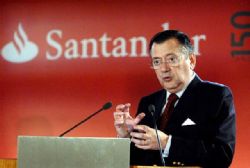 The outgoing Spanish government pardoned on Friday Santander Chief Executive Alfredo Saenz who was convicted for false accusations against debtors in 2009.
In March, 68-year old Saenz was barred from working as a banker for three months and faced a possible jail sentence after the culmination of the long-running case, which related to his time heading Banesto in 1994.
The pardon will allow Saenz to remain in his post at Spain's largest bank. Santander said it was satisfied with the government's decision.
Saenz, who cemented his reputation in the 1990s by helping turn around Santander's domestic unit Banesto after Santander took it over, was found guilty in December 2009 of falsely claiming that businesses owed Banesto money.
Both prosecution and defence lawyers appealed against the 2009 ruling.
Shares were little changed on the announcement, trading down 1% at 5.1 euros at 1252 GMT.