El Hierro Volcano Update : 15th November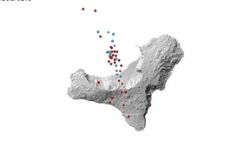 Scientists from the National Geographic Institute of Spain (IGN) observing seismic activity on the Canary Island of El Hierro have recorded a total of 7 earthquakes since midnight.
As with activities over recent days, the earthquakes were centered around the El Golfo bay area, to the North and West of the town of Frontera on the northern side of the Island.
The magnitudes varied from 1.6 to 3.1 on the richter scale and depths varied from 16 to 21 kms.
PEVOLCA have maintained a the red state of alert for the El Pinar municpality of the island (where la Restinga is located), with a yellow state of alert for the rest of the island.
Whilst residents of the town have been allowed to return to their homes and the los Rosquillos tunnel has reopened, the beaches of Puerto Naos and Tacorón remain closed due to pollution resulting from the volcanic eruption.
Read further news stories about the El Hierro Volcano by clicking the link HERE .