Ryanair fly 2.5 mln passengers to Malaga Jan - Oct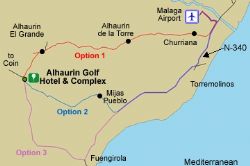 For 2011 to date Ryanair has provided 21% of all passengers at the Costa del Sol's Malaga airport.
The airline launched their Malaga base of operations in December 2009, which coincided with the opening of the airport's new terminal 3. The Company CEO, Michael O'Leary, predicted that Ryanair would become the first airline in 2010 and surpass 2 million passengers.
By the end of 2010 the airline had surpassed his own predictions, carrying some 2,113,374 passengers.
Ryanair's dominant position continued into 2011, with 2.5 Million passengers flying to Malaga with Ryanair, between January and October, making them the second largest company in at the airport after Easyjet.
Earlier last month the airline's Sales and Marketing and Diirector for Spain, Luis Fernandez-Mellado, gave a press conference, saying "This summer we have been above 90% occupancy and hope to have good levels in the coming months," although he urged passengers to buy their tickets as far in advance as possible due to the possibility of ticket prices increasing due to the soaring cost of fuel.
The 6 largest airlines flying into Malaga are now 'Low-Cost Airlines', with the largest 'Non-Budget' airline (Air Europa) coming in at seventh place.
Iberia, Spain's national carrier, is the 14th largest airline at Malaga airport.