Ryanair introduce new internet security feature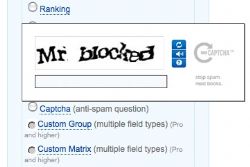 Ryanair have introduced an improved internet security feature on their website, to prevent two Spanish websites from yusing 'screenscraper' technology to display information from Ryanair.com on their own website.
Edreams and Bravofly displayed Ryanair ticket prices and seat availability on their own website without the authority of the airline, and the intoduction of their new reCAPTHCHA security feature has now prevented that from happening.
Stepehen MacNamara, Ryanair's spokesman confirmed that "Ryanair will continue to implement measures to get rid of unauthorised screenscrapers and travel agents from our website, so that we can maximise consumer access and continue to improve the response times for ordinary passengers who want to book Europe's lowest air fares without doing it through unauthorised screenscrapers or middle men such as Edreams and Bravofly.
"We hope now that Bravofly and Edreams have finally stopped their unauthorised screenscraping of the Ryanair.com website, that passengers in Spain will now realise that the only website where they can be guaranteed the lowest air fares is the Ryanair.com website, where they won't pay any hidden handling fees or be misquoted higher air fares, as has been the case with many unauthorised screenscrapers to date."