Paramount theme park still to break ground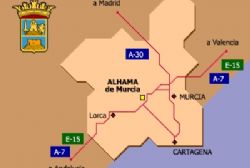 Whilst construction of Premursa's Paramount Pictures theme park at Alhama de Murcia is still to get underway, the Town's Ayuntamiento is nonetheless proudly promoting the project to the public.
Observers and critics on many theme park forums on the internet remind supporters that Paramount does not have the best track record when it comes to announcements concerning the opening of their theme parks. Not one of the theme parks which they announced in Shanghai, Dubai or Korea since 2005 have come to fruition as yet.
Perhaps the difference between the Alhama de Murcia park, and the parks at Dubai and Shanghai, is the project is financed entirely by private investors. Promotional literature by the promotor of the park, Premursa, proclaims that they have already secured 1 billion euros in funding : 500 million for the theme park and 500 million for the lifestyle centre, which comprises hotels, shopping malls, restaurants and a convention centre.
The project also comes under pressure with the recent announcement that a new theme parks is to be constrcuted on Mallorca, and a further park, which claims it will be the largest park in Europe, to be build in Malaga on the Costa del Sol.
Another factor that goes in the favour of the Alhama park is the support which the project has from the regional government and their investment of local infrastrcuture to support the theme park.