Los Indignados Call for General Strike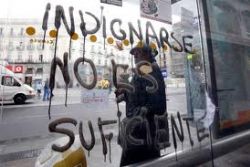 Yesterday brought hundreds of protestors to the streets of the capital, calling for a General Strike against the policies of the incoming PP Government who, the ´los Indignados´protest group believe, will favour big business as opposed to the country´s employees.
Six different groups marched through different areas of Madrid and converged on Neptune square where they chanted and carried slogans against corruption and further austerity measures and cuts to public spending.
A los Indignados spokesperson told the press that the demonstration was organized ahead of last week´s general elections, regardless of the result, with the aim of asking the government to reconsider the common policy of favouring the employer over the employee.
Spain is currently struggling with close to five million unemployed, a stagnating economy and the country's sovereign debt being picked over by international markets.
The Partido Popular Party leader, and new Prime Minister Mariano Rajoy, has not rushed to announced the members of his new cabinet and has told the press that he will take his time doing so, ensuring that the best possible candidates will be picked for each position. It is expected that he will make an announcement of his decision later this week, and the new Government will be in place the week before Christmas.