INE data shows decline in Spanish population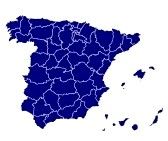 Data issued this morning by the National Institute of Statistics (INE) has shown how more people are moving away from Spain than are arriving into the country.
This is the first time since records began in 1856, that the flow of outgoing immigrants has been greater than the incoming.
So far this year over 500´000 people have left Spain, largely due to the falling job prospects, of this number 10% are Spanish citizens.
Between 2008 and 2009 Immigration fell by over 50%.
As a result the difference between incoming and outgoing people has left a deficit of 130,850 residents in one year – a trend which is expected to continue until at least 2020.
The social security office has recorded a decline of 274,185 immigrant workers who were paying their contributions – a fall of 13.3% of the 2,059,547 currently registered. Currently just 10.28% of those registered with the Social Security office are foreign, amounting to just over 1.7 million.
The largest ethnic groups legally working in Spain are Romania and Morocco, with 250,000 and 200,000 respectively, followed by Ecuador, Colombia, China and Bolivia.
Spain currently has 5.14 million 'legal' immigrants, of whom 2.8 million are EU Nationals, with just under 2.7 million from Morocco, Ecuador, Colombia, Perú, Bolivia and China.