Slow Economic Growth And Rising Unemployment Predicted For 2012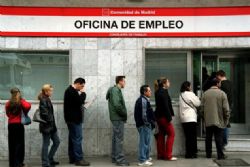 The Organization for Economic Cooperation and Development (OECD) yesterday predicted how Spain should expect to see a slow growth in the economy and an even higher unemployment rate in 2012.
The OECD forecast spoke of growth of just 0.3% next year, with unemployment rising to 23%, leaving more than 5 million Spaniards out of work.
The report was released just 2 weeks after the Bank of Spain confirmed that the economy of the country failed to grow in Q3 of 2011 and comes a week after the Spanish general elections which saw the right wing Popular Party (PP) elected into power.
The new conservative government is expected to put a program of major cutbacks into action early in the new year in an attempt to reduce Spain's deficit in order to comply with the agreement made between EU leaders last month.