Budget Airlines Account for 86pct of 2011 passenger growth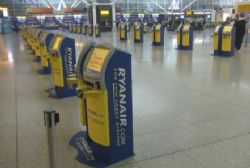 Budget airlines accounted for almost 10 Million of the 11 Million increase in passenger numbers flying to or from Spanish airports so far this year.
Statistics released by AENA have also revealed how a total of 178.5 million passengers arrived at Spainīs airports in the first 10 months of the year, an increase of 6.8% on the same period for 2010.
During this period Ryanair, Air Berlin and easyJet provided 9.7 million of the 11.2 million increase in passengers numbers, representing 86% of the total growth - 56 Million, or 31.5% of the overall traffic.
Ryanair alone have served 30.4 Million passengers in the Jan-Oct 2011 period, a growth of 33% - some 7.56 Million - on the same period last year.
By comparison, Spainīs own Vueling, who are 45% owned by Iberia, is the 3rd largest carrier for the domestic market serving some 15.3 million passengers - an increase of 1.6 Million - which represents an 11.6% growth.
EasyJet saw an increase of 5.7% in passenger numbers flying to Spain, with an increase of 550,000 additional users, now standing at 10.2 Million passengers.
Meanwhile, the mainstream carriers continue to lose business. Passenger numbers flying with Iberia in the Jan-Oct period are down by 16%, representing a loss of 4 million passengers. It is for reasons such as this that the carrier will launch their Iberia Express subsidiary airline early next year.