Spanish Housewives complain over sale of Ryanair calendar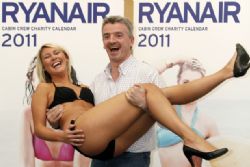 Spainīs Provincial Association of Housewives and Consumers of Valencia (TYRIUS) has issued a formal complaint to the airline with regards to the sale of itīs 2012 calendar.
The calendar, "Ryanair Girls" shows a number of photographs of various female crew members in Bikinis and underwear, and is sold for the benefit of DebRA, a U.K.based charity, which aims to provide 50 families, each with children who suffer from epidermolysis bullosa skin condition, to enjoy a vacation in Malaga, Spain.
Despite the charitable nature of the Calendar, TYRIUS explained that this situation has been reported to the Non-Sexist Advertising Observatory of Valencia, given that the campaign "uses the female body" in the form of advertising.
The association has called for the suspension of the sale of these calendars as well as the the advertising slogan for their sale "Hot Rates and crew", which aims to sell low-cost tickets until midnight on Thursday on the back of the publicity surrounding the sale of the calendar.
TYRIUS have also complained that although this calendar advertising is sold for charity, the company is preying on the dignity of women workers in general, and the cabin crew in particular.