Spanair Flight turned back after developing engine fault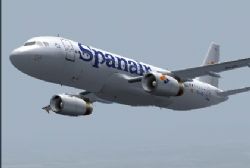 A Spanair flight between Barcelona-El Prat and bound for Madrid-Barajas airports was forced to turn back minutes after take off after detecting a problem with the aircraft.
AENA mobilised the fire safety crew to enable the plane, carrying 151 passengers, to return to El Prat and make an Emergency landing shortly after 7.33 pm last night.
Crew had been initially alerted to the possibility of a problem when a warning light indicated that the engine on the rights side of the plane was either overheating or on fire.
Passengers were able to be transferred to another flight to Madrid,which left at 9.50 pm that evening
Upon inspection the aircraft, an Airbus A320, was found to have no defect with the engine in question and had passed a routine maintenance inspection in early October.