PP May plan to cut airline subsidies for Canary Islands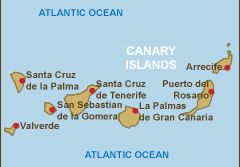 The PP yesterday told their Party Chairman for the Canary Islands, José Manuel Soria, that they would be looking into ending subsidies offered to budget airlines to maintain flight to the Islands.
The Ministry of Tourism reported how visitor numbers to the Islands increased by 21.4% in October.
payments of such subsidies were covered in the terms of the 2011 state budget to encourage the establishment of new routes to the Islands, to increase the frequency of flights and the number of passengers carried.
Subsidies currently average between 8 - 15 Euros per passenger.
Elsewhere, the President of the Spanish Association of Airline Companies (AECA) referred to such subsidies as "Discriminatory", given that they are only paid out to low cost airlines, and that if any subsidies should be paid, then they should be paid fairly to all airlines.