EU clears Santander to buy UK branches from RBS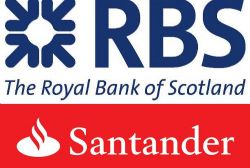 The European Commission has cleared Spain's Santander to buy over 300 bank branches of Royal Bank of Scotland in the United Kingdom.
RBS, 83% owned by the UK government, annnounced on August 4 that it had agreed to sell 318 branches and associated assets and liabilities to Santander for a premium of 350 million pounds to net assets.
The sale comprises 311 RBS branches in England and Wales and seven NatWest branches in Scotland.
The EU's competition watchdog said in a statement on Wednesday that the transaction would not harm competition.
"The analysis confirmed that Santander presently has a relatively limited share of the UK commercial banking market, and the overlaps in these areas resulting from the acquisition are low," the Commission said in a statement published on Wednesday.
The Commission also said its decision would not affect RBS's obligations under the state aid procedure.
Those legally resident in Spain can click HERE to find out more about UK banking services available for Expats.