Rubalcaba to lead PSOE until Feb Convention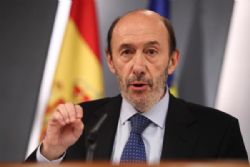 Alfredo Pérez Rubalcaba will continue to lead the defeated PSOE party in opposition once they have left Government, and until a new secretary general can be decided upon at the party´s convention, due to be held in Seville early February.
The proposal was made by the deputy leader of the party, José Blanco, at a party meeting on Monday night in the absence of José Luis Rodríguez Zapatero, who was occupied by state issues, said Marcelino Iglesias, the PSOE speaker in the Senate.
There were no objections to the proposal, with PSOE members united in their belief that the former deputy prime minister is the right man to take on the task of finding his replacement.
Elsewhere, public prosecutors in the Supreme Court announced that they would be prepared to open an investigation into accusations of influence-peddling and bribery against acting Public Works Minister Jose Blanco.
Blanco has already told the press last week that he would not be seeking a leadership position in the opposition to the government.