AENA Cancel flights to UK due to strike action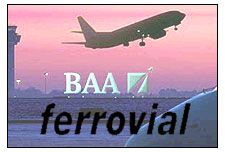 AENA have cancelled two flights form their Spanish airport to the UK this morning due to today´s public sector strike in the UK.
BAA, owned by Spanish company Ferrovial, warned that the queues at passport control and immigration could result in severe delays at the airport. A such passengers may be forced to wait on the airplanes after arrival due to there being insufficient capacity inside the terminal buildings.
BA and BMI have both advised passengers not to fly to the UK today, and if possible to change their reservations to fly on a different date without penalty.
Iberia has announced that all passengers planning to travel to London today can change their tickets without penalty.
Iberia has canceled one of its flights between Barajas and Heathrow airports, flight no. IB3166 at 16.00 hrs, and the return flight, IB3167 AT 18.40 HRS.
British public sector workers are protesting against the reforms of the pension systems that require them to work longer and pay more for their retirement, as part of austerity measures imposed by the conservative coalition in order to cut deficit.