Ryanair introduce further UK - Spain routes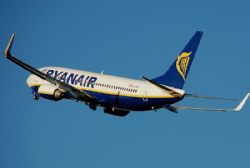 Ryanair have announced the intoduction of a new route to connect Scotland and Spain.
The low cost carrier will commence flights from South Ayrshire's Glasgow- Prestwick airport to Barcelona El-Prat airport for the coming summer season.
This coincided with the announcement that the airline will also introduce new routes for the summer season between East Midlands airport in the UK, Barcelona and Almeria.
The airline has as yet made no formal announcement with regards to the frequency of flights expected to be operated.
Barcelona continues to be a popular destination for Ryanair passengers, with numbers growing by almost 40% in the first half of 2011 compared to the same period in 2010. However, growth at Barcelona El-Prat has been largely at the expense of the other regional airports of Catalonia, Reus and Girona.