Spainīs first solar powered service station opens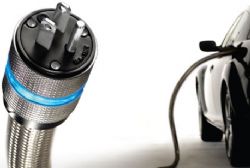 The first solar-powered fuel point for electric vehicles has opened in Alcala de Henares.
Solar Panels mounted on the roof of the Juan Carlos I botanical gardens at the University of Alcala de Henares, near Madrid, will provide power for the charging points.
For now at least, the service is free of charge.
The system was necessitated by the increasing popularity of electrically powered cars, claimed one of its creators, engineer Oscar Suarez Ayala. Ayala reasoned that conventional electricity is produced by power stations, and would therefore still result in the production of pollution in the form of carbon dioxide, however electricity manufactured from solar power would be truly "Green".
Each of the refueling points at the Alcala service station has a mobile phone "app" which informs users the amount of time it will take to charge their vehicle and the time that refueling will be complete, which will vary depending upon the technical specification of the vehicle. Electric vehicles currently on the market can take anywhere from 3.1/2 to 8 hours to be fully topped up from being discharged.
Ayala expects that the recharging times will become shorter as solar recharging became more popular and technology improves, predicting that this would happen sooner rather than later. "We have already had many enquiries," he added.
Local resident and Blogger, Maureen Dolan , told Tumbit how she was enthusiastic about the move : " These vehicles are still out of the price range for most people, but Iīm sure that will change in the future.
"Use of green energy such as this is definitely the way to go, and showīs Alcalaīs commitment to the environment."