1 Year on : AENA President apologises for closure of airspace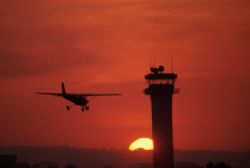 Tomorrow marks the 1 year anniversary of the closure of Spanish airspace due to the wildcat strike by Air Traffic Controllers.
The President of AENA, Juan Ignacio Lema, has spoken of how he recognises that the situation was "traumatic" for both the 600,000 passengers affected aswell as for the agency itself. Lema extended his apologies for the event and promised, "it will not occur again." He continued to say that "no person may take the law into their own hands" and laid the blame for the disruption caused at the feet of the striking controllers.
Lema said how the Court ruling against the 6'000 Euro compensation claim, which exempts AENA from liability on the grounds of "there being an agreement between air traffic controller to leave their posts, resulting in an illegal and unexpected course of events, which the company could not react to. "
He also referred to the decision made by a court in Santiago de Compostela against an air traffic controller who had alleged that he was released from his position due to falsified documentation from AENA.
However, the Judge hearing the case against the controllers added AENA as a party liable for the payment of compensation due, if the controllers were found liable and were found to have insufficient personal assets to cover the amount.
Lema expressed his confidence that the judges will acquit AENA in the many open trials still before the courts, adding that "the last word is justice.... we will comply with the decisions of the judges and could not be otherwise," he said.
Meanwhile, airlines are claiming 116 million euros in damages arising from its conflict with the controllers, maintaining that, as service provider, AENA is ultimately responsible.