Catalonian town forces prostitutes to wear high-vis vests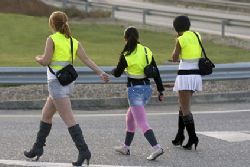 Prostitutes working on busy highways around the town of Els Alamus, close to Lleida in Catalonia, have been ordered to wear reflective vests to make them visible to passing traffic and reduce the risk of accidents.
Any such prostitute found working on the LL-11 Highway without wearing a vest will be fined 40 Euros for being in breach of a road traffic law dating to 2004, which states that all pedestrians on major highways and hard shoulders must wear the high visibility vests.
A spokesman for the Mossos d'Esquadra, Catalonia's regional police force, commented : "In the past couple of months the prostitutes have been fined for two reasons: for not wearing the reflective jacket and for creating danger on the public highway."
This is further to a recent move by the Town's mayor in clamping down on prostitutes who offer sex for sale in public urban areas, who has been accused of trying to rid the town of sex workers.
Prostitution is not illegal in Spain, where an estimated 300'000 women work in the sex industry, however profiting from the sale of sex from another person is a crime.