Bilbao airport sees peak traffic for bank holiday week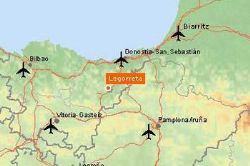 Bilbao Airport is scheduled to operate a total of 1,166 flights between Friday 2nd and Monday 12th December to mark the week in which many Spaniards traditionally take a number of extra days off work to coincide with the two National Fiesta days - The Spanish Constitution Day and the Day of Immaculate Conception.
Over this period it is estimated that in excess of 153,000 passengers will use the airport, according to AENA sources. The busiest days are expected to be Friday 2nd and Wednesday 7th with operations reaching between 120-125 per day and passenger numbers reaching as many as 15´000 per day.
The Ministry of Development notes that the usual charter routes will be operated from the airport, but many more charter flights have also been added by a number of tour operators. These include direct flights from Bilbao to Malta, Istanbul, Prague and Berlin in charter flights, as well as the regular scheduled routes to major European capital cities such as London, Paris, Rome, Amsterdam and Lisbon.