Iberia pilots to vote on xmas strike action Wednesday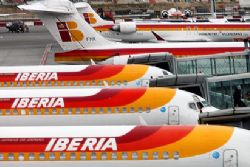 Spanish airline, Iberia, has thrown out the latest proposal presented to them by the SEPLA pilots' union, opposed against the creation of a new airline, intended to compete with other European low coast airlines.
SEPLA claims that the new airline, to be called 'Iberia Express', would bring significantly lower savings to the company than forecast - just €15 Mln per year, against predictions of €100 Mln.
Iberia pilots are due to make a decision on the possibility of taking any strike action over the Christmas period, and if so on which dates, tomorrow.
Meanwhile, the Airline Executives have said how the pilots have not offered to reduce their wages at all - yet alone by the 50% claimed by Iberia's SEPLA representative, Justo Peral.
The union claim that the low cost division is being created to protect Iberia operations at T4 Madrid-Barajas airport in order to establish their sister airline, British airways at the airport, then promoting Iberia as the budget airline of the IAG group.
Iberia has denied this allegation, stating that they operate around 700 flights per day out of Barajas T4, with BA having 7 flights per day. - both airlines maintaining the same number of flights they made before the merger of the two airlines and subsequent creation of teh IAG group.
Iberia's cabin crew union members voted earlier today, deciding not to support the pilots in their protest.