Catalan Schoolkids Inconvenienced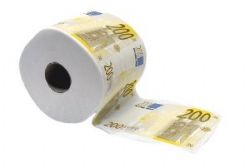 Schoolchildren in Catalonia have fallen victim to further cuts in public spending made by the region's CiU Coalition Government, led by Artur Mas.
The Regional Ministry of Education has been ordered to control it's "Excessive Consumption " of toilet paper, with schools now being rationed a maximum of 25mts of paper per child, per month.
Whilst being one of Spain's wealthiest regions, Catalonia is also one of the most indebted. The CiU coalition government inherited a 4.2% of GDP deficit when they were voted into office almost exactly one year ago, and is under pressure from central government to reach a target of 2.66% by the end of 2011 through the saving of 2.7 Billion Euros.
The regional target is then to reduce the deficit to 1.3% by the end of 2012 through a further saving of 1 Billion Euros, before falling to 0.14% by 2018.
Last month Mas announced an increase in certain taxes and public fees such as the fuel tax, transport fees, water supply prices, and university fees. Furthermore, if the new Spanish Government does not eliminate the newly introduced Wealth Tax in 2012, the Catalan Government will in turn claim a percentage from the revenue generated. The Generalitat will also continue selling off surplus real estate assets and the privatisation process of public companies.