Airlines unite to condemn UK's air passenger tax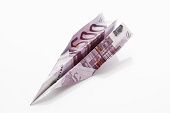 The UK and Ireland's biggest airlines teamed up to criticise Britain's decision not to scrap Air Passenger Duty, with IAG-owned British Airways highlighting its opposition by saying the levy would lead to hundreds fewer jobs being created next year.
Britain confirmed on Tuesday that it would press ahead with plans to raise APD by 8% from next April and to extend it to business jets weighing 5.7 tonnes or more.
The decision followed a lengthy consultation process which saw a rare show of unity among the travel industry as it lobbied for the removal of the levy.
In a joint statement on Tuesday, the chief executives of Easyjet, Ryanair, Virgin Atlantic and IAG said the consultation, which began in March, had been a "sham and a waste of taxpayers' money".
"We are left with a tax that has already cost 25,000 jobs, is doing increasing damage to the prospects for economic recovery and sends a message to the world that Britain is a difficult and expensive place to do business," the CEOs said.
In a separate statement, British Airways said it would downsize plans to take on 800 new staff in 2012.
"These fresh tax hikes make it impossible for us to proceed with this level of recruitment, so we expect to reduce this number by about half," BA said.
The airline also said it would postpone its plan to bring an extra Boeing 747 into service next year and review the use of two others.
"This will have consequences for our flying schedule and will affect suppliers in Wales, Northern Ireland and England, undermining efforts to sustain employment levels," it said.
The airlines repeated their call for the levy to be scrapped and for an independent review into whether the negative impact on Britain's economy from APD outweighed the revenue it brings in.
They say the tax, which is applied to most flights originating in the UK, penalises holidaymakers and makes Britain a less attractive destination.
The airlines had said APD, which was first introduced to combat greenhouse gas emissions, should be abolished with the introduction of the EU's Emissions Trading Scheme.
Passengers have to pay between 24 pounds and 170 pounds in APD, depending on the length of flight, substantially more than when it was introduced in 1994.