Gap between Easyjet and Ryanair narrows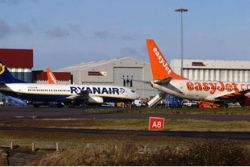 Low cost carrier, EasyJet, enjoyed an 88.3% occupancy rate in November, 8.3% above its rival Ryanair, who completed a 'load factor' of 80% last month.
The occupancy rate / load factor for Easyjet for 2011 to date now stands at 87.5%. compared to 87.2% for the same period last year. The airline carried 3,821,355 passengers in November, up on the 3,694,514 recorded in the same month last year.
By comparison, Ryanair registered a rate of 82% for the same period in 2011, up from 80% in 2010.
Whilst Easyjet returned a more impressive occupancy level, itīs rival serviced a higher number of passengers overall. In the November 2010 - November 2011 period, Easyjet flew 54.99 Million Passengers (an increase of 11.2% on the previous year), whilst Ryanair flew 76.7 million passengers (an decrease of 8% on the previous year).