Sales of Electric cars in Spain stall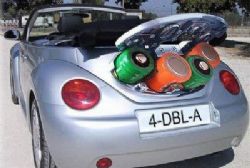 According to a report today by Spanish daily newspaper, El Mundo, sales of electric cars in Spain are low – with just 314 vehicles being sold to date in 2011, which corresponds to 0.04% of the total 741´600 number of vehicles sold.
The country saw just 45 electric vehicles sold in November.
The popularity of electric vehicles is greatest in Madrid, which saw 149 vehicles being registered – followed by Catatonia with 56.
Worldwide, the sales of electric vehicles increased by 21.7 % over the last 11 months to reach a total of 9,427 electric vehicles now on the road. That represents 1.27% of all car registrations – while in November sales rose 7.5% to 830 units, making up 1.37% of the market.
This follows last week´s news that Spain´s first Solar Powered service station for Electrically Powered vehicles opened at the University of Alcala de Henares, near Madrid.
Click Here to read more ...