Ryanair Stealth Charges Increase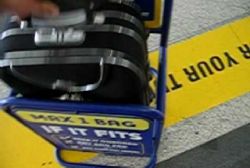 Ryanair has announced the introduction of an increase in the cost applied to checking in hold luggage in the peak holiday periods of June to September and over Christmas.
This will take effect on any flights booked with the airline on or after the 15th of December, with the cost for each peice of luggage being checked into the hold of the aircraft increasing by 5 Euros, from the 15 Euros charge currently to 20 Euros.
However, when the hold-luggage has not been been reserved and paid for in advance - including instances when check-in staff have deemed cabin baggage to be too large or too heavy to be allowed on the flight - the charge will increase from 35 Euros to 60 Euros.
The airline also announced that it will increase the penalty charge for those who have forgotten to, or been unable to print off their flight confirmation / boarding passes at home from 40 Euros to 60 Euros as from January the 15th of next year.