Spanish court orders Ryanair to compensate stranded passengers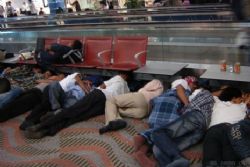 In an unprecedented decision Logroņo Provincial Court in la Rioja has ruled that Ryanair must pay €2´135 to four passengers left stranded for 2 days in Malta.
The passengers had been due to return to Girona Airport on the 9th March 2010, but the flight was cancelled due to adverse weather condition in Catalonia, where Girona airport had been closed for a number of days.
In court lawyers representing the airline supplied documentation as evidence that the flight had been cancelled due to forces beyond their control, however the legal team for the passengers was able to show proof that at the time that the flight was scheduled to land, Girona airport was operational.
The court awarded each of the passengers 200 euros compensation in damages for the neglect and anguish they suffered for two days, paid on top of the financial compensation awarded, which was to recompense them for the additional costs incurred for their hotel fees whilst waiting for connecting flight two days later.
As required by law, the court upheld that passengers should be offered free meals and refreshments, hotel accommodation, and where necessary transport between the airport and place of accommodation, in addition to two telephone calls, telex or fax messages or emails. The court noted that "none of this was made by Ryanair".