Ryanair v Easyjet luggage policy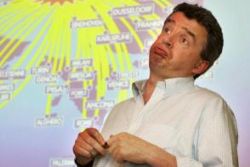 Ryanair passengers be warned : the `low cost" ticket prices look likely to pale into insignificance from next summer when compared with the potential bottom-line costs once baggage fees have been taken into account.
Last week Tumbit reported how Ryanair"s stealth charges are set to increase - specifically regarding the printing of boarding passes at the airport, or penalty charges for overweight hand luggage, however further changes to the airline"s baggage policy have now been announced.
The peak seasons of summer and Christmas will now see passengers wishing to check in their luggage at the airport without reserving in advance, pay a fee of £100, compared to the previous charge of £40.
The cost of checking a single piece of luggage into the hold in advance has also increased from £15 to £25 each way.
The charge for a second bag has also been placed at a much higher charge of £45.
Ryanair have always maintained that there charges are fair and encourage passengers to travel `within the rules" and that the excess charges only apply to those who do not follow them. As 70% of all passengers agree to these rules and abide by them, the vast majority of passengers are therefore not penalised.
Carrying the agreed amount of hand luggage is all well and good, however, not only is the number of luggage items, the total weight and the total volume advised by Ryanair less generous than other airlines, it is also enforced more rigorously.
Ryanair permit just one piece of luggage per person, inclusive of shopping bags, carrier bags, handbags and laptop cases. All extra items must be either consolidated into one bag (along as the consolidated bag remains withing the size & weight allowances) or be checked into the hold at extra cost. Other airlines are known to take a much more tolerant approach to item number and in any case, have much higher weight and volume allowances.
By comparison Ryanair allow a hand luggage weight of 10kg and Volume of 44 liters, compared to Easyjet not having a weight limit and a volume of 63 liters.
Easyjet also charge £30 per 20kg of checked luggage compared to Ryanair"s £25 for 15kg.
However, Easyjet"s `Penalty" for excess items is just £25 if paid at check in, rising to £40 if paid at the boarding gate.
There can be little doubt that Ryanair is indeed one of the consistently cheapest airlines flying in and out of Spain - providing you are fully aware of all limiting factors and able to abide by them. If not, they can easy work out to be one of the most expensive.