AENA return to profit for 2011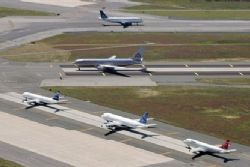 Spanish Airports and Air Navigation (AENA) are set to close the year with a profit before tax of 16 million euros, according to the group President, Juan Ignacio Lema, who is happy with the news, considering that when he assumed office in April 2009, forecasts were that they would not be in profit until 2017.
The Group as a whole achieved a consolidated profit of two million euros this year, which added to those of their subsidiaries and AENA International Airport Logistics Centers (CLASS), enable the company to leave the last five years of returning losses behind them. In April of this year the Government announced how they expected that AENA would not be profitable until next year.
Lema announced how "Aircraft, airports will benefit, but not yet".
The return to profit has been possible largely due to the structural reform of air traffic control, which has resulted in a decrease in expenditure on salaries of 780 million euros in 2008 to 480 million in 2010, with further plans reduce their costs by 700 million euros over the next four years.
Last year, AENA managed to reduce total losses by 55% to 157 million euros.
As far as traffic is concerned, AENA have seen a 6% increase in traffic over 2011, flying around 200 million passengers. In 2010 the group processed 192.78 million passengers, a 2.7% increase on 2009.
However, Lema projected that figures for 2012 "will not be as good as this year, but will be positive."