The curse of Spanish theme parks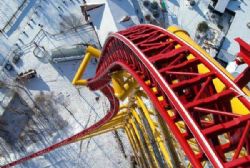 If, or when, it finally opens for business, the Paramount Pictures Theme Park at Alhama de Murcia will become the fifth such theme park in Spain.
However, with further plans being prepared for a further two similar parks : one at Llucmajor in Mallorca, and one in Malaga. it remains to be seen if the country can sustain what will become seven theme parks by 2015..
Spainīs first theme park, Port Aventura, opened in Tarragona in 1995 and has done reasonably well due in part to itīs lack of competition. The park welcomed 3.3 Million visitors in 2009 and saw a net profit of 4.5 Million euros.
However, more recently opened contempories of the Catalonian theme park have not been quite so successful.
Sevilleīs Isla Magica saw a loss of 3.36 Million Euros for 2009. the park, which opened in 1997, celebrated the arrival of itīs 14 Millionth visitor last week.
Benidormīs Terra Mitica returning a loss of 3.3 Million Euros for the same period a considerable `improvementī on 2008, when the park, which is owned by a consortium of the Generalitat Valencia, CAM Bank and the Aqualandia group, returned a loss of 15 Million Euros, when visitor number stood at just 1.1 Million for the year.
The more recently opened Warner Theme Park (Parque de Atracciones) Madrid, is also returning losses fueled by the high cost of loans and disappointing visitor numbers.
One thing that these parks have in common is the high level of both both public and private investment : Public insofar as many Municipalities and / or Regional Governments have made significant investments, and Private with many Banks and other regional or national lenders being draw into ownership of the projects through bankruptcy agreements and other financial wranglings.
The two questions now are : `What makes Premursa believe that they can secure the required investment to complete construction of the Paramount park at Alhama de Murcia and, if they can, what makes them so sure that they can operate at a Profit ?ī.