Rajoy announces official appointments of party seniors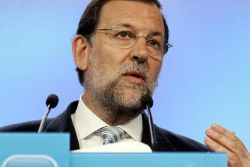 Spain's new Prime Minister, Mariano Rajoy, has chosen two veteran leaders of the Popular Party, Jesus Posada and Pio Garcia Escudero, to head the Congress of Deputies and the Senate on the eve of the constitution of the new Parliament.
Yesterday Rajoy announced his first appointments just one week before being sworn in as the country's 6th prime minister since the return to Democracy after a resounding victory over the ruling PSOE party.
Posada is a senior PP member who was agriculture and fishing minister from 1999-2000 and public administration minister from 2000-2002 during the two administrations of Jose Maria Aznar, and has remained a loyal party backbencher over recent years.
Posada was also the regional President of of Castile and Leon from 1989-1991 and was one of the main bastions of the Spanish conservatives, where he took over for Aznar when the latter was selected to head the PP.
Garcia Escudero, whose selection to head the Senate was predicted to be a foregone conclusion, is also a vsenior party member having been the party's spokesman in the chamber since 2004.
The PP spokesmen in both chambers of Parliament will also be lawmakers who have Rajoy's confidence, namely Alfonso Alonso, from the Basque Country and the former mayor of the city of Vitoria, in the lower chamber, and Jose Manuel Barreiro, the former vice president of the Xunta de Galicia, in the upper chamber.
The appointments announced yesterday are the first of the list that Rajoy must announce in the coming days, particularly the members of his Cabinet, which he has kept a close secret since his election victory.
Rajoy will reveal the members of his Cabinet on Dec. 21 when he will be sworn in as prime minister for a four-year term.