Ryanair to launch base of operations at Palma from next year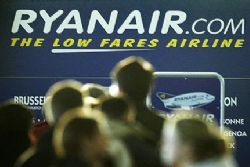 Ryanair has announced the opening of its base at Son San Juan airport, Palma de Majorca, which will become the airline's 49th European base.
The Base will become operational by March 2012, in time for the Easter - Summer period, and will have a total of 4 aircraft based permenantly at the airport, operating a total of 47 routes - 17 more than in 2011.
Amonst the new routes announced are : Palma to Aarhus; Cork; Gothenburg; Haugesund; Kaunas; Krakow; Maastricht; Malaga; Magdeburg; Marseille; Oslo; Paris Beauvais; Poznan; Santander; Santiago; Stockholm and Tampere.
To celebrate the launch of the new flights, which go on sale tomorrow, Ryanair is having a seat sale from 9.99 euros for travel across European routes in late January and early February 2012.
The airline's increased level of operations at the airport is expected to enable them to services some 2.8 million passengers each year, and employ 2,800 members of staff.