Ryanair confirm cuts at Alicante El Altet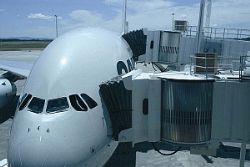 Earlier today Ryanair confirmed that it will cut all services to and from Alicante's El Altet airport by 50% as of Summer 2012, blaming the airport's management for enforcing the unneceesary use of airbridges when boarding or disembarking flights at the new terminal building.
The airline has already slashed routes and frequencies by more than 50% for the winter season.
Ryanair claim that the mandatory use of the airbridges with result in an extra cost of some 2million euros which they are unprepared to pass over to their passengers. They also claim that the terms of their original contract with the airport specifically agrees to passengers disembarking on foot.
The airline has appealed to the Spanish Commercial courts over the charges which is due to be heard in early February, where, if they win the appeal, or if the airport agrees not to enforce their use, the decision to quit El Altet will be reversed.
For their part, El Altet management claim that use of the airbridges is a necessary safety feature, and that Ryanair's cutbacks were already planned ahead of this becoming an issue.
Michael O'Leary told the press: " AENA Alicante are now proving that inefficient airbridges and higher fees will result in the airport suffering route, traffic and job cuts.
"We call again on AENA to reverse this abusive decision to force Ryanair and other airlines to use and pay for unnecessary airbridges at Alicante."
"As a result of these 2012 cutbacks, Ryanair's annual traffic at Alicante will fall from 3.5m in 2010/11 to 2m in 2011/12, with the loss of 6 based aircraft, 18 routes and 1,500 jobs at Alicante," he added.
"These cuts will reduce AENA Alicante's revenues by some €30m p.a. solely because of its attempt to impose €2m in unnecessary airbridge fees on Ryanair."