El Hierro Volcano Update : 13th December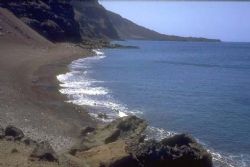 Scientists from Spain's National Geological Institute (IGN) who are have been observing the seismic and volcanic activity on the Canary Island of El Hierro, have recorded no earthquakes at all over the course of the last two days.
As of 21.00 hrs GMT on Tuesday, the last activity recorded was at 02.11 hrs on Sunday the 11th December, at a magnitude of 1.9 on the richter scale and at a depth of 18kms. As in recent weeks, the epcientre was located in the El Golfo bay area, off the coast of Frontera on the northern side of the island.
The sudden fall in seismic activity has not yet been accompanied by a similar fall in volcanic activity - namely the emissions erupting from the underwater vent in the Las Calmas bay area to the south of the island.
Whilst the casual observer may be drawn to speculate that this decline in the number of earthquakes and their frequencies indicates that the volcanic activity is ending, PEVOLCA and the IGN are continuing to monitor the island. Previous experience of similar activities shows how it is difficult to draw a parallel and predict such events.
Whislt the Island remains on a yellow state of alert, and fishing, swimming and diving is still prohibited in the las Calmas area, it is still too early for the residents of the island to be celebrating the return to normality.
Read further news stories about the El Hierro Volcano by clicking the link HERE .