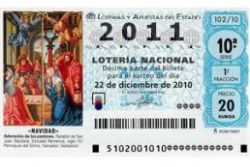 The countdown has begun for the world's biggest ever one-day lottery draw, Spain's El Gordo de Navidad, which takes places in Madrid on December 22nd.
Despite a year of rising austerity measures and increasing unemployment, Spaniards have flocked to buy their 'decimas', which has resulted in the total prize fund being pushed up to a record 2.5 Billion Euros.
The official 'Loterias y Apuestas del Estado' outlets in many towns have seen unpresedented queues, as have some of the country's bar's who enjoy a 'lucky' reputation, such as the Bruja Ora (Golden Witch) in the aptly named town of Sort (Catalan for 'Luck'), who sold one of the jackpot winning tickets in 2003.
"El Gordo" is famous not only for its size, but also its excellent odds of winning (better than 1 in 7), with it being possible to win up to seven times on one ticket. The draw also takes places just once a year, always three days before Christmas, which only adds to the sense of anticipation.
This year's draw will create 180 millionaires in the highest jackpot level alone, each receiving €4 Million. This is why as many as 98% of all Spaniards take part in the draw, spending an average of 70 Euros per adult.
The draw itself and prize fund structure is a long and complicated process, but it's unique formula allows many more 'winners' than other more conventional lottery draws. Each ticket sold is numbered from 00000 to 99999 and each number can be sold 180 times, hence the 180 jackpot winners.
These tickets can then be further split and sold off in 1/10ths - each called a 'decimo', which cost between 20 and 23 Euros each (depending on whether bought from a 'Loteria' or a bar).