AENA spends 3.9 mln euros in preparation for winter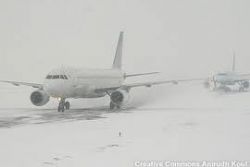 A total of 450 AENA airport employees have been given specialist training over the past 12 months in order to deal with any adverse weather conditions quickly and efficiently.
The training exersize, together with purchase of new equipment, came at a cost of some 3.9 million euros, and has prepared personnel for the possibility of having to clear up to 450 tons of snow and ice from runways at any one time.
The so called 'Plan Invierno' is reviewed on a regular basis, as are staff training resources and training requirements in preparation for the winter season.
The airports included in the 'Plan Invierno' are: A Coruna, Albacete, Asturias, Badajoz, Barcelona-El Prat, Bilbao, Burgos, Girona-Costa Brava, Federico García Lorca Granada-Jaén, Huesca-Pyrenees, León, Logroño-Agoncillo, Madrid Barajas, Madrid-Cuatro Vientos, Menorca, Palma de Mallorca, Pamplona, ​​Reus, Salamanca, San Sebastian, Santander, Santiago, Valladolid, Vigo, Vitoria and Zaragoza.
The plan focusses on monitoring of the weather, continuous checking of the runway surface and ensuring that any equipment is available and in good working order in the event that it will be required at short notice.
AENA currently have 85 of their own specialised vehicles for snow and ice removal, and can call on outsode contractors if further assistance is required.
This specialised training has been given to staff who are already employed in Fire Fighting positions and those who are employed to maintain and safeguard the integrity of the runway surface.
Furthermore, each airport will work more closely with the Meterological office to ensure that any approaching adverse weather conditions can be prepared for.