Jet2 announces new route to Reus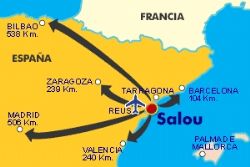 British low cost airline, Jet2.com , has announced the launch of a new route to Spain, between Newcastle and Reus, Tarragona.
Flights are due to commence on Friday July 1st and will have a scheduled frequency of twice a week.
Jet2 began operations at Reus in May 2010 with a route to Manchester, but the success of this route has led the airline to explore other opportunities to bring passengers to the region of Catalonia.
Reus airport was hard hit in October when Ryanair announced that they would be cancelling all services for the winter season, with doubt hanging over whether they would return at all for the summer season. However, earlier this week Ryanair announced that they had arrived at an arrangement with AENA and the Generalitat of Catalonia to continue flying to Reus for a further five years.
The agreement, which also covers the region's Girona airport, guarantees the airlines a payment of 8 Million euros per year amounting to 40 million euros. The deal stands on the understanding that the airline brings 500'000 passengers per year to the airport in exchange for airport fees remaining the same over the next five years.