Barcelona El Prat sees record 33 Mln Passengers for 2011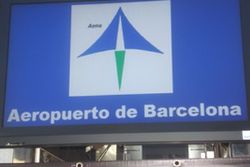 The Spanish Airportīs Authority, AENA, yesterday issued a statement revealing how passenger number at Barcelonaīs El-Prat airport have reached record levels of 33 Million for the year to date. The record passenger number for any one month was set in August of this year, at 3,623,889 passengers.
The previous record stood at 32.8 million for 2007.
The Airportīs Director acknowledged that the numbers observed for 2011 would be difficult to surpass, however, he maintained that the airport had the infrastructure and capacity to cope with any growth that did come along if they were able to attract more airlines or additional routes flying to the airport.
The 2011 figures represent a growth of 17% on 2010 and is largely attributed to the increase in popularity with `low costī airlines, such as Ryanair. However, the significant growth at El Prat also corresponds directly with the decrease of passenger numbers at the regionīs Reus and Girona airports.
Barcelona El-Prat is currently the fastest growing airport in Europe, however, earlier last week the Generalitat of Catalonia reached an agreement with Ryanair to safeguard the future of the regionīs other airports. The agreement will see the Generalitat makes payments of 40 Million Euros over a five year period in exchange for guarantees that fees at Reus and Girona will not be increased. In exchange, Ryanair undertake to fly 500ī000 and 3 Million passengers per year to the airports, respectively.