Iberia Pilots on Strike Today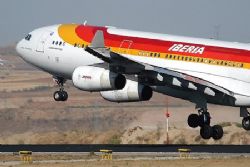 The first of two one-day strikes began earlier today, which saw Iberia reduce flights due to strike action by their Pilots.
The SEPLA Pilots union have forced the cancellation of almost a third of all flights today, with the vast majority of them being for national routes.
The Pilots are concerned over job losses through the outsouricng of services when the company creates it's new Iberia Express service early next year to compete with other low cost carriers.
Iberia Express hopes to offer low cost short and medium haul flights as a shuttle service to link in with their long haul and transatlantic flights.
The new airlins expects to launch early in the new year, with a new team of Pilots and Flight Attendants and will begin operations with a fleet of 40 airplanes. This has caused union concerns that a new brand would result in a loss of jobs at Iberia, and with costs being cut in aircraft maintenance and other areas as they become subject to pressure to compete with other low cost airlines.