Spanish bad debt reaches 16 year high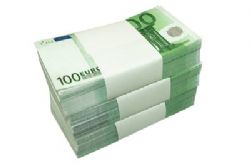 The ratio of bad debts held by Spanish Banks increased for the seventh consecutive month in September, to reach a 16-year high, according to information released earlier today by the Bank of Spain.
Statistcs revealled how 7.42% of all loans were in excess of 3 months overdue in October, increasing from 7.16% the previous month, the highest it has been since November 1994, compared to a level of below 1% during the property boom years.
In total EUR131.9 billion of outstanding loans were classed as "non-performing" for October, up from EUR128.1 billion in September, which equates to around 13% of the Country's total GDP.
Since October of this year the country's banks have some EUR1.78 trillion in loans outstanding, down slightly from EUR1.79 trillion in September, which has remained reasonably constant since the collaps of the property market in 2008.
Spain's banks have been struggling to control escalating losses on loans provided to the real-estate and construction sector, as the country tackles the deepest economic downturn in decades and a widening debt crisis in the euro zone.