Iberia Pilots Strike Causing Minimum Disruption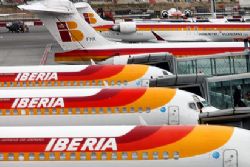 The Iberia Pilots strike yesterday caused little disruption, other than the 91 flights that had been forced to be cancelled in advance of the action taking place.
The Ministry of Public works had laid down conditions under which the strike may legally go ahead, which the Airline and Unions has agreed to.
At 6pm yesterday Iberia issued a statement saying that 60% of the 195 flights scheduled for the day had taken off without incident. Many passengers who had been affected by the 91 cancelled flights had been offered alternative transport.
Justo Peral, chairman of the SEPLA Pilots union, denied allegations that members were planning a wildcat strike for January, accusing Iberia of creating a smokescreen and of worrying its customers unnecessarily.
"We are not going to do anything illegal," he said.
Iberia's pilots are striking to protest the carrier's plans to launch a low-cost airline, Iberia Express, in March 2012.
The pilots are due to strike for a second day on Thursday, December 29.