Low Cost Airline Passenger Numbers Slip in November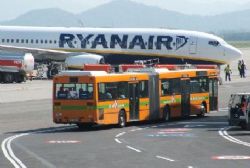 Low cost airlines flying to Spain this November have seen a decrease in passengers for the first time this year - down 0.4% on Novermber 2010.
This dip in activity was largely attributed to Ryanair, who either suspened a number of routes from the end of October, or cancelled them altogether.
Although passenger numbers arriving at Spanish airports reached 3.6 million in Novermber - 1.6% more than in November 2010 - a report by the Institute of Tourism Studies (IET) attributes this to growth seen by conventional carriers.
Conventional airlines carried 49.1% of passengers, representing an increase of 3.7%, whist the low cost carriers represented 50.9% of passengers - a decline of 0.4%.
However, up until Novemeber the low cost carriers carried 12.8% more passengers than they did for the same period on 2010, reaching a total of 34 Million. Bt comparison, conventional airlines carried just 7.5% more, reaching just 25.5 Million.
As far as November 2011 is concerned, Ryanair, Easyjet and Vueling were the three busiest carriers, between them providing 55.4% of all 'low cost' flights.
Passengers from the UK, Germany and Italy made up 60% of all low-cost passengers, but still saw decreases of 0.7%, 4.6% and 8.3% respectively. Meanwhile low cost flights from France and the Netherlands, usually representing 6.3% and 5.5% of low cost passengers, increased by 6.2% and 9.4% respectively.
By destination, the Canary Islands saw the most growth, with 526,000 low-cost passengers arriving in December - an increase of 10.1% on November 201, followed by Catalonia, with 414,500 visitors and a growth of 1.9%. All other regions recorded a decrease in low-cpost passenger numbers for November, ranging from Madrid, returning a loss of 2.2% to the Balearics with a loss of 15.6%.
With regards to the induvidual airports, El Prat welcomed the most low cost passengers at 20%, a 16.3% increase on November 2011, followed by Barajas at 14.7%, - down by 2.2% on last year. 2.2% less. Other notable airports to show a decrease in low cost passengers during November were Tenerife South (11.2%), Malaga (13,2%), and Alicante (8.8%) and Palma de Mallorca (15.9%).