Spain's Repsol rescues Sacyr from debt pain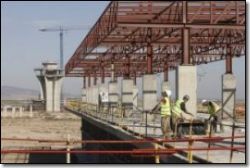 Spanish oil major Repsol came to the rescue of its debt-laden shareholder on Tuesday, buying 10% of its own shares from Sacyr in a deal that will allow the builder to refinance a 4.9 billion euro syndicated loan.
Repsol chairman Antonio Brufau revealed the deal from Moscow on Tuesday, but did not disclose the price. A source said the deal was closed at a slight discount to the market price.
Repsol shares, which were suspended before the market opened, closed on Monday at 22.48 euros, valuing a 10% stake at about 2.7 billion euros.
Thanks to the sale, which Sacyr will use to pay off a large part of the debt, the builder and its creditor banks have agreed on a three-year extension on the remainder of the loan, a source with knowledge of the agreement told Reuters.
Sacyr ran into debt trouble when it acquired 20% of Repsol for 6.5 billion euros just before the global financial crisis and the collapse of Spain's property and construction bubble.
Sacyr shares were also suspended before the open.
Tumbit Question : With Sacyr being the majority shareholder of Aeromur, the concession holder of Corvera International Airport, as well as being the entity responsible for the construction of the project, does this leave a questionmark over the completion or operation of the new airport ?