AENA offer Ryanair airbridge compromise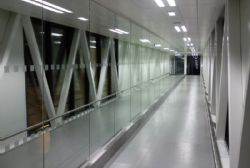 AENA has attempted to reach a compromise with Ryanair, with the director of Alicante's El Altet airport, Santiago Martínez-Cava, suggesting that the airports buses may be used to shuttle passengers from the terminal building to embark the aircraft.
Ryanair and the AENA management of El Altet airport have long been at loggerheads following the latter's insistance that the airlines uses airbridges to board passengers who are flying from all but a minority of gates at the airport. AENA insist that this is due to reasons of public saftey.
However, Ryanair argue that the use is unneccessary, and that it will result in a cost of almost 2 million Euros per year to the airline, which would ultimately be passed over to the passenger.
Aside from Ryanair's original agreement with El Altet being that passengers could embark and disembark on foot, the airline argues that they are being forced to pay for new terminal building that was neither wanted or required.
With no sign of either party backing down from their position, Ryanair made good on their threat and last week cancelled 18 of their Summer routes from the airport.
At the same time the airline stated that their decision was "reversible" if AENA was to permit the embarking of aircraft on foot, or if a commercial court in Elche, which is hearing their appeal, ruled that it would be permitted.
Ryanair have yet to respond to the offer, and it remains to be seen if this compromise will result in the return of the previously cancelled summer routes.