Cabinet to be announced tomorrow - first meeting Friday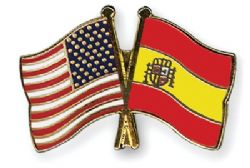 The President of the USA, Barack Obama, made a telephone call to Mariano Rajoy yesterday evening to congratulate him on becoming Spain's sixth Prime Minister since the Country's return to democracy, the White House said in a statement.
During the conversation the President affirmed America's support for the economic reforms proposed by Rajoy when the Partido Popular took an overhwelming victory at the Spanish General Election last month.
The statement continued that : "The two leaders agreed on the vitality of the alliance between our two countries, which cooperate closely on a full range of issues on our shared global agenda."
President Obama will officially meet with Prime Minister Rajoy when both countries take part in the NATO Summit in Chicago in May next year.
Mariano Rajoy was approved by Spanish parliament as the new prime minister yesterday, following a two-day investiture debate.
Rajoy said his party would dedicate efforts to ensuring that Spain will meet the target of reducing the country's deficit in line with the agreement reached with the EU in October, which requires Spain to cut around 16.5 billion euros in spending.
Meanwhile, the new Prime Minister is expected to formally announce his cabinet tomorrow, ahead of the first cabinet meeting, which will take place on Friday of this week.