Chacon in running as PSOE party leader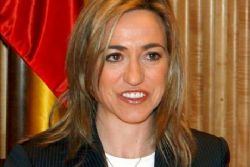 Although much of the media spotlight this week has fallen on Mariano Rajoy, his investiture as PM and the naming of his cabinet, the PSOE have been hard at work behind the scenes.
With Zapatero stepping aside, and Rubalcaba ruling himself out of the running, the hunt is on for a new party leader.
A popular choice with many party elders is former Defence Ministerm Carme Chacón, who stood aside in favour of Rubalcaba in her bid to become the PSOE party's presidential candidate earlier this year.
A Group of around 20 senior party members, lead by Juan Fernando López Aguilar, head of the PSOE's euro deputies, has hinted at the need for the party to be rebuilt from scratch and having lost credibility with their management of the crisis - in particular Zapatero's 'Unwillingness to acknowledge' there even was a crisis.